Welcome to Year 4
We work hard in Year 4 and are part of a team. We enjoy all lessons and love going on school trips. This year we have been to Alnwick Castle and are planning a trip Newcastle Keep.
As part of the curriculum, Potions was our first topic. We enjoyed learning about how to make potions and writing to Alice in Wonderland.
This term we are learning about 1066. It is a really exciting topic and we have already made shields, swords, helmets and Motte and Bailey Castles. Lots more learning to come!
We work hard to collect lots of House Points and hope our house wins the House treat.
Attendance is important and we strive to be in school on time every day.
Mrs Gray and Miss Connelly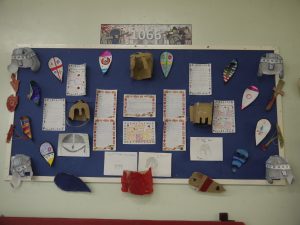 4G – Mrs Gray
4C – Miss Connelly
Our Class Newsletters
Our Home Learning Menus
Our Curriculum Plans